Partner With Us For All Of Your Food Service Needs
United Restaurant Equipment provides full design services for commercial kitchens and serveries.
We meet with owners, managers, contractors, and architects to determine project requirements. Our design team will then optimize kitchen flow to provide the best customer service and employee efficiency. We will provide guidance on meeting local health and building codes related to the kitchen. We communicate electrical, plumbing and airflow requirements to the appropriate trades via complete kitchen drawings and on site meetings.
We have done commercial kitchen and servery design for many types of customers including corporate cafeterias, schools, hospitals, churches, country clubs, institutions, hotels, restaurants, and more.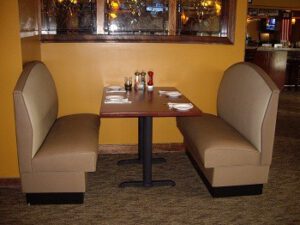 A local country club needed an update for their dining room seating. United helped the client
We want to hear from you. Our experienced staff can help with all your foodservice needs. Whether you're looking for a specific piece of equipment or need recommendations, we are here for you every step of the way.
*No household sales. Commercial customers only.
Address:
1 Executive Park Drive
North Billerica, MA 01862
Monday
Tuesday
Wednesday
Thursday
Friday
Saturday
Sunday
8:30am – 4:30pm
8:30am – 4:30pm
8:30am – 4:30pm
8:30am – 4:30pm
8:30am – 4:30pm
Closed
Closed